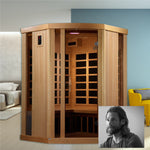 Golden Designs Near Zero EMF Far Infrared Sauna By Josh Crosby
Dear Golden Designs,

I recently purchased the 3 person corner unit Near Zero EMF infrared sauna (specifically GDI-6365-01 Near Zero EMF Far Infrared Sauna) and love it! I have spent years researching the benefits of infrared and the different makes/models on the market and so happy with my choice. I have the perfect fit for my needs and felt the benefits even within the first few sessions using my Golden Designs sauna. It heats up quickly and I have sweat literally coming out of every pore in 10-15 minutes.
As a former ultra-endurance athlete (Ironman, adventure racing) I have put some miles on my body. I still am very active with my fitness and racing life and I find that the sauna helps me not only recover from my current weekly workouts, but also prepares my muscles and joints for them. I warm-up quickly and feel stronger throughout my workout. After a tough run or row, I wake up the next morning with less soreness than I usually would expect. Also, with two little ones in the house I have managed this Fall to avoid the colds brought home from school. Perhaps, I can't directly give the sauna all the credit, but my immune system feels stronger and ready to fight.
In terms of the product and company specifically, I have had the best experience. From the ordering to the delivery process, I couldn't be more pleased. All involved were super professional and on-time. The packing job was done so well with not a scratch on any part. Putting together was simple and clear. Yes, it takes two, but goes by quickly and is ready to use immediately once assembled. The construction was far more durable/solid than I expected due to my experience with other brands. Oh, be sure you get the correct plug setting/amperage for your unit prior to arrival. That delayed me a day or two. The sound system and mood lighting is fantastic and makes your little oasis come alive. I have this currently in the corner of my office and often read or do a call or two while in there. Yes, meditating in there would be better for me I know!
My research taught me what to look for in an infrared sauna and this one has it all: low EMF, carbon panels on all sides and by feet and calves, ability to heat to 130 or above, a simple operating panel and sound system. I wanted something that could be roomy enough for my wife and me, but could fit in the corner of my office. I also loved the prices on these units over other brands.
So as you can tell I am a huge fan of my Low EMF Golden Designs infrared sauna and look forward to years of it bringing me good health and help in achieving my future athletic goals.
Josh Crosby
Boston, MA
world champion rower and ultra-endurance athlete